Indiana's Strick Trailers Elevates Trade Show Display with Portable Stage
The United States of StageDrop is a series highlighting customer success stories from each state. This installment of the United States of StageDrop features the Hoosier State, Indiana!
Located in Monroe, Indiana, Strick Trailers LLC is a leading manufacturer of custom semi trailers and commercial truck equipment, including dry freight semi trailers and converter dollies. They specialize in sheet and post dry vans and produce everything from 22-foot pup trailers to 60-foot drop deck trailers.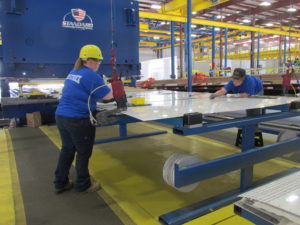 Strick Trailers has a long and storied history in the U.S. dating back to the 1930s, when founder Frank Strick built the first "frameless" monocoque trailer body – a revolutionary development in the trucking business. Monocoque construction and the use of aluminum rather than steel led to bigger and lighter trailers, allowing more freight to be hauled by one truck. Today, that pioneering spirit continues at Strick Trailers with innovative trailer design and manufacturing techniques that allow shippers to haul more freight and reduce their operating costs.
One such innovative design is embodied in Strick Trailers' new Elevator Trailer, a state-of-the-art 28-foot pup trailer with a motorized internal system to provide increased cargo space. The trailer utilizes three elevator platforms to drop the trailer floor segments down, using the space between the axles, so that three pallets can be fit in vertically instead of two, resulting in a 25% increase in cargo space.
The Challenge
Strick was set to debut their new Elevator Trailer at the American Trucking Association's Technology & Maintenance Council annual meeting last February in Atlanta. When designing the exhibit booth for the big launch, the company decided to incorporate a portable stage with stairs to provide easy access to the trailer. They contacted StageDrop for portable stage recommendations and a quote.
"We needed to stand out among the crowd and wanted a focal point to draw attention to our booth."
LESLIE ADAIR, STRICK TRAILERS MARKETING STRATEGIST
"We needed a solid and safe platform that could support multiple people at a time allowing them to explore our new Elevator trailer being launched at the TMC Annual Meeting," says Leslie Adair, the company's marketing strategist. "We needed to stand out among the crowd and wanted a focal point to draw attention to our booth."
The Solution
With StageDrop's recommendation, Strick Trailers purchased a ProFlex Staging 8'x12′ portable stage with stairs, safety guard rails and Ameristage skirting. ProFlex Staging is a heavy-duty yet lightweight indoor/outdoor stage system that features aluminum frame 4'x8' platforms with a water-resistant textured black vinyl finish and aluminum legs that adjust telescopically for setting the stage to a precise height. All components are modular for easy expansion and replacement, and ProFlex Staging boasts a 10-year manufacturer's warranty.
The Result
Strick Trailers' launch of the new Elevator trailer went off without a hitch. The ProFlex stage provided a safe and easy way for people to access and explore the new trailer, and it provided an attractive and professional display that commanded a presence in the exhibit hall. "Worked out fantastic. Setup was quick and easy. Extremely durable and safe," says Adair. "The stage made our trailer stand out among the crowd."
Strick Trailers plans to use the stage at future trade shows and meetings as well. "We will be able to use the stage over and over again, as it can be modified and flexible to meet our needs at future shows. The pieces allow us to have a small stage setup or a big stage setup, and we can add pieces as needed to modify the overall layout," says Adair.
The company especially likes how the Ameristage stage skirts turned out. "We definitely like the stage skirts because they are flame-resistant, which meet convention safety requirements, and they easily attach to the stage with the included skirt clips," Adair says. "They hide any cords or equipment that may be hanging out underneath the stage. They make a great hiding storage space to stow all of our extra show materials like cleaning supplies, literature, vacuum cleaners, give-a-ways, etc. It just gives it a clean, finishing touch."
Thank you StageDrop, for representing Strick Trailers in Monroe, Indiana, as this week's feature business!