Details
Strick Trailers proudly offers a 5 year limited warranty to the original purchaser of our equipment. To learn how to file a claim, what's covered, what's not covered and more, download the warranty.
Register Your Trailer
Thank you for purchasing a Strick® trailer!
Strick supplies InfoScan™ VIN Tag technology with every van manufactured. This technology easily enables a cellphone to capture the trailer's VIN number to reduce warranty registration time and to keep the VIN number handy for immediate use which may include insurance, parts or service.
Now it's time to register it! Your registration enforces your warranty coverage and will keep you up to date on product information. To register your product, you will need the Strick serial number (last 6 digits) of VIN found on your dealer invoice or located on the front of the unit. If you have questions about your warranty, please contact Strick's Warranty Department at strickwarranty@stricktrailers.com.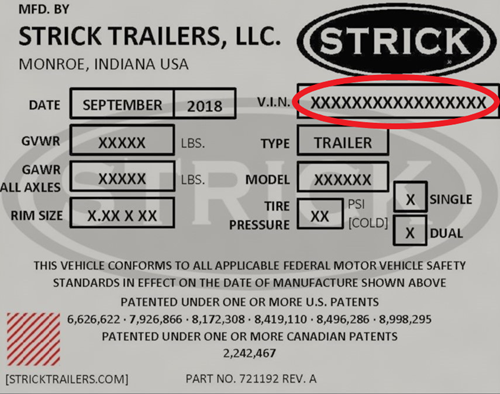 Please note: if you have purchased multiple trailers with non-consecutive V.I.N. numbers, you will need to register those units separately.
Parts
New Life Transport Parts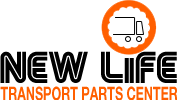 New Life Transport Parts Center, our "Partner in Parts", is the authorized outlet for Strick aftermarket trailer repair parts throughout the United States. With over 32 years in the business, New Life has become an industry leader in parts distribution.
New Life will distribute Strick parts to all authorized trailer and parts distributors nationwide and through New Life's own inventory warehouses in Chicago, Dallas, Atlanta, and Grand Rapids, as well as three new branch locations in Fargo, Milwaukee, and Minneapolis.
Visit New Life Transport Parts
Trailer Maintenance
Safe and Secure Hauling Starts with Trailer Maintenance
First things first, download our care and maintenance manual.
General guideline: If it moves, slides or goes up and down, inspect it! Regular service and maintenance of your trailer ensures confidence that you and your cargo remain safe every time you hit the road. Regular trailer maintenance also adds years to your trailer's life.
Maintenance Tips at a Glance:
Check the Air Inspect your tires to ensure the system pressure is set correctly, check the auxiliary battery switch (ABS)/auxiliary power fuse, and check the system shut-off valve position.
Inspect Suspensions Visually inspect suspensions looking for signs of irregular wear, tears or heat cracks on the air springs. Make sure nothing is touching the suspension or interfering with its movement. Also make sure air springs have sufficient and equal pressure.
Don't just Lube Verify that the correct lube is applied and in the right amount for essential trailer operation.
Need Brakes Adjust brakes according to owner's manual and measure drum material conditions.
Light it Up Regularly check lamps, wires and harness systems and replace grease when needed at connection points. Ensure all trailer taillights, stop lights, clearance lights and turn signals are operating properly and verify connections to your vehicle for the lights are clean and tight.
Keep it Clean Routinely wash your trailer, both inside and out. Wash the underside where chemicals and debris can remain undetected to help prolong the life of your trailer and ensure its value.
Secure it Examine tiedown straps, chains, ratchets and winches. Look for holes, tears, cuts, snags, loose stitching or embedded particles in the straps and at securing hardware, including loose logistics tracks on the inside of the trailer or rusted winches and hooks on the outside.
Review your owner's manual for proper maintenance and instruction for your specific trailer. As you get ready to head out on the road, safety should always be at the top of your mind. Take the time to tune up your trailer and then enjoy the ride!
FAQs
Frequently Asked Questions